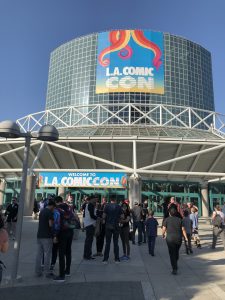 Oct 26th, 2018 – Oct 28th, 2018
When talking about conventions the first question that comes up is, "which celebrities will be there?" LA Comic Con had no shortage of celebs: Katie Cassidy (The CW – Arrow),
DMC (Rapper), Brett Dalton (ABC – Agents of S.H.I.E.L.D),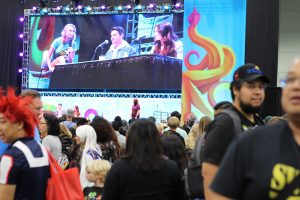 Rhiannon Fish (The CW – The 100), and many more. Usually I like to attend the panels and listen to my ge
ek heroes talk about their art. Maybe even get lucky and get a sneak peak of a new show or maybe a few minutes of an upcoming movie. If you are really lucky you might even get passe
s to screen a full movie at the convention.
I must admit, this was my first LA Comic Con, and I wanted to get the lay of the land so to speak. Yes, you can attend panels or meet and get your favorite celeb's autograph, but I wanted to get a feel for the people that attended LA Comic Con. I believe that the attendees are what truly make each convention unique and special. Wonder Con is different than D23 which is different from San Diego Comic Con, and so on and so forth.
You go to the show floor to be where the action is, but as you enter the show floor look back and you'll be greeted by a sea of smiling and enthusiastic faces eager to join you in the fun.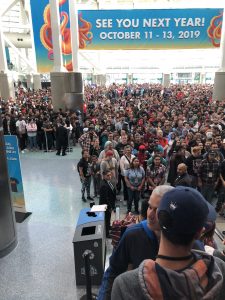 Once in the show floor you will find collectible both new and old..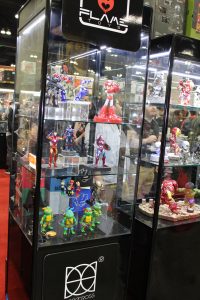 Life size statues of your favorite characters…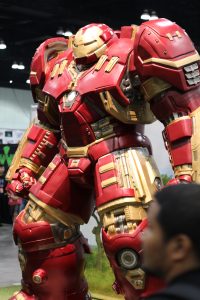 Beautiful women (and men, can't exclude the dudes) promoting their companies or products…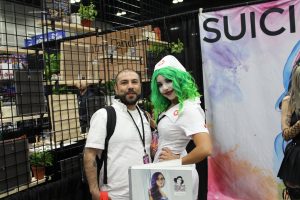 but personally I love seeing the cosplay. Fans that go the extra mile by bringing their passion to life by immersing themselves in the characters.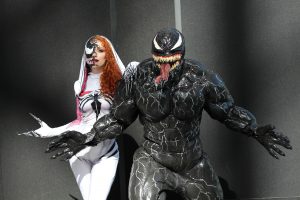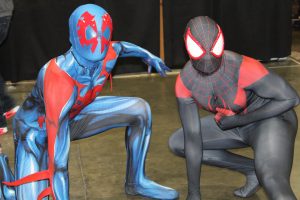 Even when exiting you can't escape the fandom. No matter where you look, the geek culture lives strong.